Tips to speed up Python¶
Hang on, don't optimise too early¶
Trade-offs e.g. complexity, speed, memory, disk, readability, time, effort, etc.

Check that code is correct (tested, documented).

Is optimisation needed?

If yes, optimise code and data.

If more needed, parallelise.
Plot idea from Dask-ML.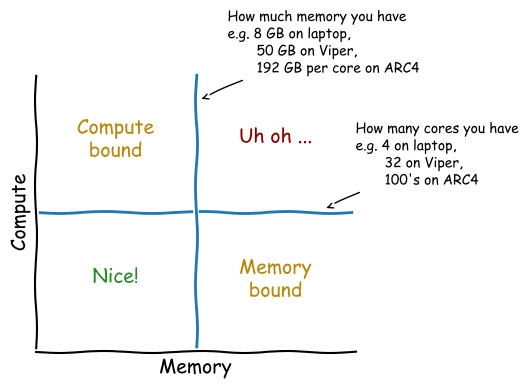 How fast is it?¶
Profiling (i.e. find the bottlenecks)

IPython magic (Jupyter Lab)

Line: %timeit

Cell: %%timeit

If pip install line_profiler:

First load module: %load_ext line_profiler

Scripts: %prun

Line-by-line: %lprun

@profile decorator around the function

If pip install memory_profiler:

First load module:

%load_ext memory_profiler

Line: %memit

Cell: %%memit

Line-by-line: %mprun
How fast could it go?¶
Time-space complexity

Big O notation where O is the order of operations, O(…).

Ignores constants and takes the largest order, so O(2n2 + 3n) would be O(n2).

Important for large number of elements, N.

Typical case.

Constant time means per machine operation.
Plot idea from Big O Cheat Sheet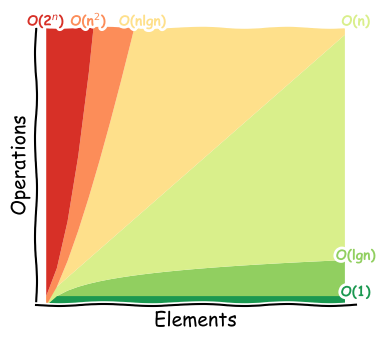 Recommendations¶
Check code is correct and optimisation is needed.

Profile to find bottlenecks.

Jupyter Lab: %%timeit and %%memit.

Line-by-line: line_profiler and memory_profiler.

Optimise code and data.

Parallelise.
Further information¶
Helpful resources
Other things that may help save time in the long run: